Mother Brain

Homeworld

Gender

None (Programmed with
Female personality)

Affiliation

Featured in
Mother Brain (マザーブレイン, Mazā Burein), is a recurring antagonist and boss in the Metroid series.
Biography
Edit
Mother Brain is a cold artificial intelligence who was made by the Chozo, but turned against them when the Space Pirates and Ridley invaded Zebes. Mother Brain saw potential in the pirates and decided that with them helping, she could bring true order to the universe by "reseting everything back to zero". Mother Brain was seen as a main antagonist in Metroid, Super Metroid and Metroid: Zero Mission. It is unclear if Mother Brain plays a role in Lego Metroid, however, close observation shows that Mother Brain might already have.
Mother Brain Alter-Ego?
Edit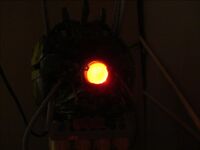 In Lego Metroid Episode 5 - Darkness, Dal-G made an ending appearance speaking to a large intelligent entity who closely resembles that of Mother Brain. It is believed that, who Dal-G perceived as Mother, is none other than Dorn himself.
Appearance
Edit
</small